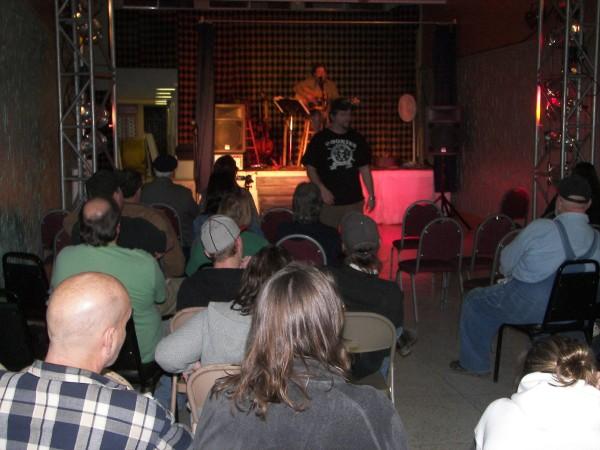 Photo above is of Matthew Harper on Stage, and the photo that is below is of Jason Lathrop belting one out at the Comedy Tonight Theater.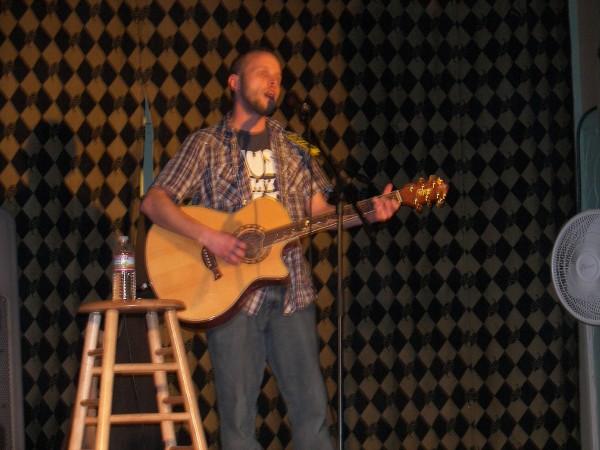 Above: Jason Latrop
Below: Anthony Jameson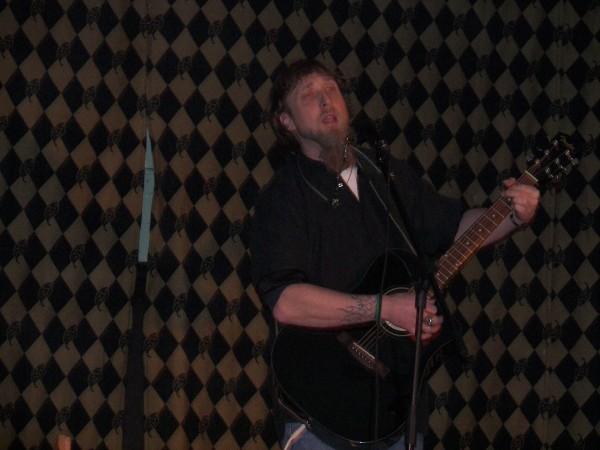 Above: Anthony Jameson
Below: Matthew Harper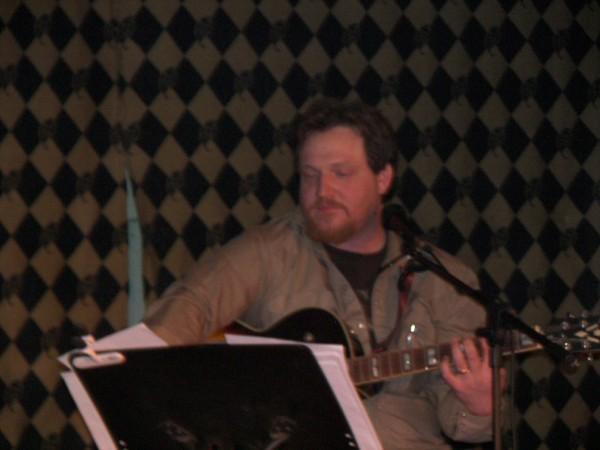 Above: Matthew Harper
Below: Dave Byerly & Ryan Wallace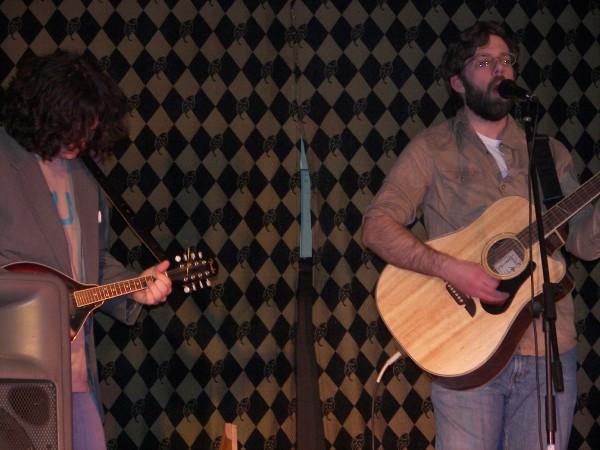 The sounds of mellow music made the night of nearly fifty music fans on March 6, 2010, at the Comedy Tonight Theater on the Nevada square. Though there were only forty-six patrons inside the Theater there were also a host of twelve performers, and three crew members, as well as a hand full of folks chilling outside visiting with friends and just stopping by when walking the dogs to see just what was going on. Everyone seemed to be very pleased and enjoyed the diverse and eclectic mix of music played by many area performers that night. "We had people drive in to town from, Stockton MO, Moundville MO, Sheldon MO, Pittsburg KS, and one couple from Kansas City, just to listen to the music" Tony Wagoner, Executive Director of Comedy Tonight said. "Some were music fans, some were friends of bands, and some were there to showcase their original music" he also told some people just walking by, when they asked who is here tonight? It was a great night of very talented, and active singers, musicians, and songwriters in our area. The roster included Joe Willis, the only Vernon County resident to perform on both the old and new Grand Ol' Opry stages in Nashville Tennessee. Also on board was singer/songwriter Matthew Harper, an area folk singer that will be featured on an upcoming motion picture soundtrack for an independent film titled "Zombie X-Terminators". Ryan Wallace was also in the house that night with a alt-country style set including some great sounding music, Ryan is a college level graphics design teacher in Springfield, and an ex-member of the Chicago based band Levee. The night made way for Jason Lathrop as well, he is a singer/songwriter that has moved back to Nevada after some adventuring finding that he loves to perform in his hometown as much as on the road. Dan Divine a singer/songwriter who was featured in American Songwriter Magazine for his song "Tree in the Front Yard" also performed that night. Aubry Robinson and Eric Good are both new to performing together but sounded great, Aubry from Truth or Consequence, New Mexico has recently moved to Nevada as she puts it "I feel at home here, and there is nowhere I have found with a music scene like Nevada, and I have been lots of places". Her counterpart Eric Good has performed in bands in the area for a few years and is now back in action singing backing vocals with Aubrey, and playing the guitar. There was also a performer by the name of Anthony Jameson, from Stockton Missouri, who performs and sounds a lot like Bob Dylan, though Anthony also sings his own songs, and has a CD out. Lorrie Divine also performed with her friends, David Byerly, Eric Lane Gulliford, and Cody Reed, Lorrie owns the Moundville Market in Moundville Missouri, is the wife of Dan Divine, and is very active in supporting local music. We can't forget Dangerous Doug Harper the heartbeat of the local music scene who is receiving a silver record at Hard Rock Cafe for the nearly 300,000 copies of his song "I Found Myself a Monkey" that were distributed throughout the United States. The "Monkey Song EP" also was featured and reviewed on Rolling Stone magazines web sight for the effort as well. Doug was the host of the show, and kept the crowd going in between performances. It was a fun night for all who attended, and another similar event will be coming up on April 3rd, 2010. For more information on the Performers, the Local Ear, or the Comedy Tonight Theater feel free to contact Tony Wagoner by phone at: 417-448-7050, listen to the Local Ear Radio Show on 105.5 FM KESM on Monday nights at 10:05 pm, or visit the Local Ear website at www.localear.info anytime.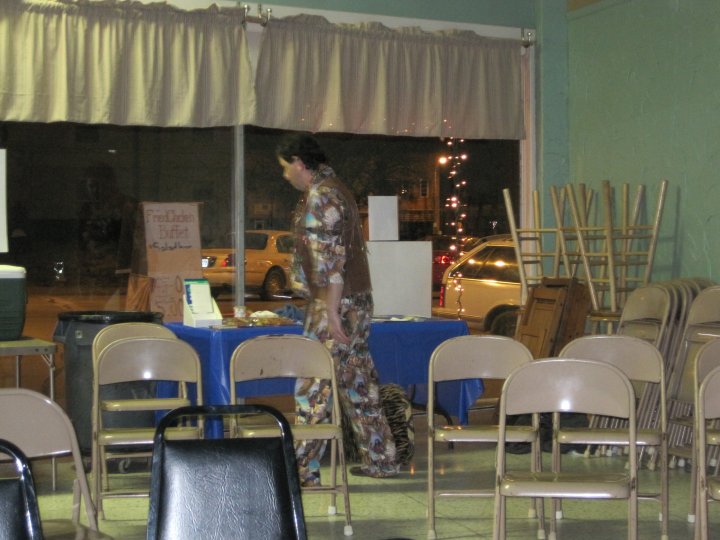 Above: Indian Bob Bitner
Below: Eric Good and Aubrey Robinson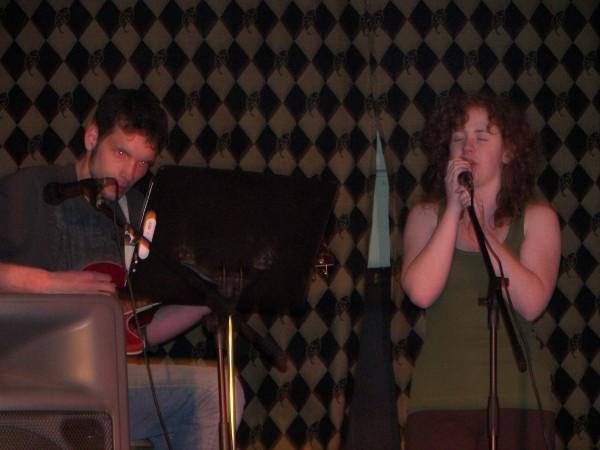 Above: Eric Good & Aubrey Robinson
Below: Joe Willis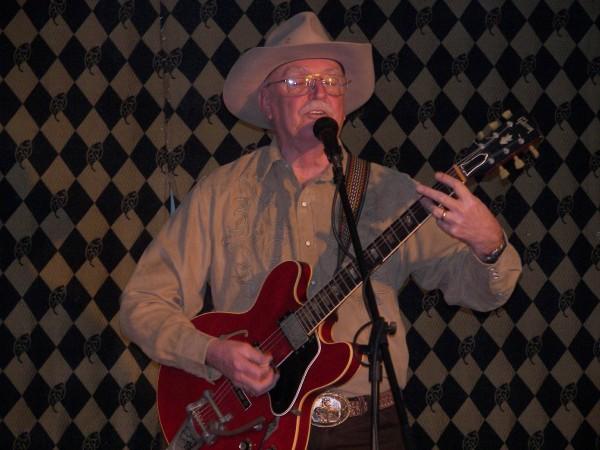 Above: Joe willis
Below: Dan Divine