The Big Friends Jam
at Backroads Steakhouse
"Every Tuesday night musicians unite for a energy filled jam session and open mic night!"
Backroads Steakhouse is a laid back restaurant with a full bar available, an off the beaten path getaway spot. Backroads is a place where everyone quickly becomes your friend, and where a great staff of servers will greet you with a smile, and go the extra mile to make your visit a one of a kind, and wonderful experience. With warm hometown conversation, and a mid-western uptown feel, from cowboys to contractors, welders, or businessmen, and just common folk young and old all find something they love at Backroads Steakhouse. It's a place to rest, a place to celebrate, a place to wind down, and a place to find entertainment. Live music, darts, pool tables, a video game and a jukebox all find a home in the east dinning room for your enjoyment while you visit, and eat, or just stop in for a social drink with friends. Bar seating and comfortable arm chairs at round tables are available to be seated at in the sports bar room with three big screen televisions, and a cozy fireplace or you can relax in the west room that is a non-smoking dinning room available with table or booth seating, and a big screen television as well. You will enjoy Backroads Steakhouse open Tuesday – Saturday, operating hours vary by season.
Call ahead or just stop by located ¾ of a mile South on South Barrett Street, behind Wal-Mart fabulous Nevada, Missouri, 417-667-4455.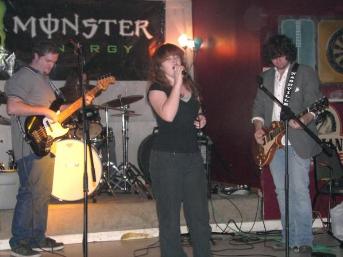 "The Backroads East Room is a host to special music, D.J.'s and bands"
"Receptions, pool tables, darts, meetings, and so much more fun throughout the week!"
"The fun begins in the east room of the restaurant!"
TUES - BIG FRIENDS JAM & OPEN MIC
WED - LADIES NIGHT
THURS - POOL LEAGUE